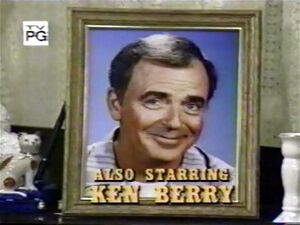 &nbsp
Vinton Harper is a fictional character on the television series, Mama's Family. He was portrayed by actor Ken Berry.
Character overview
Edit
Vinton was the youngest of three children of Thelma Harper and her late husband, Carl. He was often at the mercy of his two older sisters, the snobbish Ellen Jackson and temperamental foul-mouth Eunice Higgins. He worked as a locksmith at a store called "Kwik Keys". He had met a woman named Mitzi and marries her, siring two children Sonja Harper and Vinton "Buzz" Harper, Jr. She had left him as the show began, to break into show business, in Las Vegas, (but instead only found work as a cocktail waitress), and he and his two children moved in with his mother, after being evicted from their house.
Not long after that, he reconnected with former schoolmate, and his mother's next door neighbor, Naomi Oates. They fell in love at first sight, despite Thelma's protests, and they got married in her house. This only exacerbated the rivalry that Naomi and Thelma had. They had been planning to move to Arizona and run a trailer park, but their partner had absconded with their money, leaving them broke.
After two years, Buzz and Sonja moved out of the house and to parts unknown. By this time, Naomi and Vint had hoped that they would get the bedroom that used to belong to Vinton's aunt, Fran Crowley who had recently died. That was not to be, however, when Vinton's nephew, Bubba Higgins, had been released to Thelma's custody after Eunice and her husband, Ed Higgins outright left Raytown for Florida without telling Bubba. Bubba received the bedroom, and Vinton and Naomi stayed in the basement, where he had been sleeping since he had moved back in. Vint was briefly a member of the Cobras, a fictitious men's order similar to the Shriners and other such organizations.
Although Naomi had a bond with Buzz and Sonja, they had their own child, named Tiffany Thelma; and finally moved out of the basement at series end, and into a trailer in his mother's backyard.
Vinton was known for his clumsiness and also his tendency to not be too bright. But nonetheless, he was lovable.