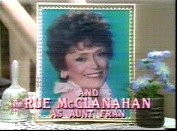 Frances Marie Crowley
, commonly known as "
Aunt Fran
", is a fictional character on the television series,
Mama's Family
. She was portrayed by the late
Rue McClanahan
during the show's first two seasons.
Character history
Edit
Fran is the uptight younger sister of acid-tongued Thelma Harper. At first, she was the only one living with Thelma, until the arrival of her nephew, Vinton Harper and his children, Vinton "Buzz" Harper, Jr. and Sonja Harper. She was a reporter for one of Raytown's newspapers, The Raytown Bugle. She was also a budding author, and had her own writing studio, which had been yanked from her by Thelma who needed the room for Sonja (the room had originally belonged to Ellen Jackson and Eunice Higgins, Vinton's older sisters). At times, Fran had felt that her privacy had been invaded because of Vint and his family moving in, namely because Sonja had read her manuscript. Another particular cross was that she had to share a bathroom with the kids. At least, Buzz kept his things in an orderly fashion, and for this won favor from Fran; while Sonja was a typical teenager, messy and earning more wrath from Fran. Fran always looked like that she was one step away from a nervous breakdown, and she often stood up to her opinionated sister. At times though, she would unbend, and let her hair down and have some fun. She showed this side of herself when she indulged in some wine at the wedding preparations for Vint and Naomi Harper. Also, when she chaperoned Sonja's slumber party when Thelma was out of town. However, after two years, (and because Rue McClanahan and Betty White, who played Ellen, had been asked to join the cast of "The Golden Girls"), Fran had died as a result of swallowing a toothpick in the ladies room at the local bar and grill, The Bigger Jigger. Her room eventually went to her great nephew, Bubba Higgins, which caused Vint and Naomi great consternation, since they had been angling for that room.